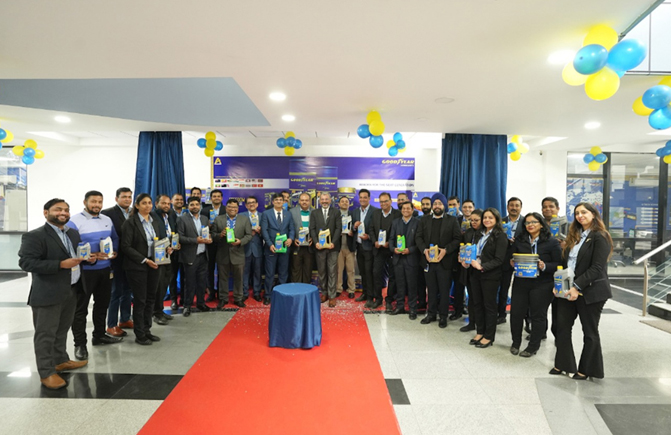 Furthering its endeavor to innovate and redefine the automotive lubricants product segment, Assurance Intl Limited, under the official licensing collaboration with The Goodyear Tire & Rubber Company, has unveiled its new range of lubricants oil and extends distribution in South Asia, Southeast Asia, Australia and New Zealand markets.
As the automotive and lubricant industry experiences increased demand for more sustainable products, this upgraded line of engine oils will be produced with the latest technology and equipment from Assurance's modern factory in the state of Haryana. Assurance has adopted a new approach to contribute to reduction in Carbon Footprint through a BSVI (EURO VI) compliant lubricants product line. This ensures a perfect blend of technology and sustainability to promote the development, dissemination and diffusion of environmentally sound and modern methods. The latest range of lubricants are durable and sustainable ensuring no direct impact to nature by eliminating oil drainage and waste into soil.
Expected to launch in Mid-January 2023, the product line will cater to all kinds of lubricant oil needs of commercial and passenger vehicles running on varied fuels and application categories. These span into engine oils, gear oils, greases, brake fluid, coolants, transmission oils, automatic transmission fluid, hydraulic oils, diesel exhaust fluid and other offerings.
In addition to the new range of engine oils, Goodyear Lubricants has also reinvented its new packaging with varied brand colours augmenting brand visual appeal which will be laddered into Entry, Mainstream and Premium product lines for customer's ease. The product packaging will also use 15% less plastic to help protect nature and improve longevity, reliability and performance to optimize customer experience at various touch points.
Assurance Intl Limited will also expand its distribution and provide after-sales assistance to consumers in Australia, Bhutan, Brunei, India, Indonesia, Laos, Malaysia, Maldives, Myanmar, New Zealand, Nepal, Singapore, Thailand, Timor– Leste and Vietnam markets.
Speaking on the sustainable revolution, Mr. Sanjay Sharma – CBO & Vice-President – South-Asia of Assurance Intl Limited said, "The new line of Goodyear Lubricants products reflects Assurance Intl Limited's strong environmental conscience and our focus on innovation. The new sustainable engine oils, such as Group III, IV and V base oil and premium quality additives, will significantly reduce the carbon footprint of vehicle users with the upgraded formulation and packaging. It will also enhance the driving experience while meeting the latest national and international standards."
Assurance Intl Limited, part of Satya Group, is a leading manufacturing & marketing company with a presence in multiple countries. Including India, Nepal, Sri Lanka, Vietnam, Turkey, South Africa, the UK, Middle East, Malaysia & Bangladesh. Satya Group was established in 1974 with the primary focus on bringing to market specialty lubricants and other lubricants. Assurance Intl Limited uses the most advanced formulation and state-of-the-art technology following international standards as per the specifications of American Petroleum Institute (API). For more information about Goodyear Lubricants in India, go to www.goodyearlubricants.in.
Goodyear is one of the world's largest tire companies. It employs about 72,000 people and manufactures its products in 57 facilities in 23 countries around the world. Its two Innovation Centres in Akron, Ohio, and Colmar-Berg, Luxembourg, strive to develop state-of-the-art products and services that set the technology and performance standard for the industry. For more information about Goodyear and its products, go to www.goodyear.com/corporate.