Lifestyle
Top 10 Most Amazing Female Writers Of 2021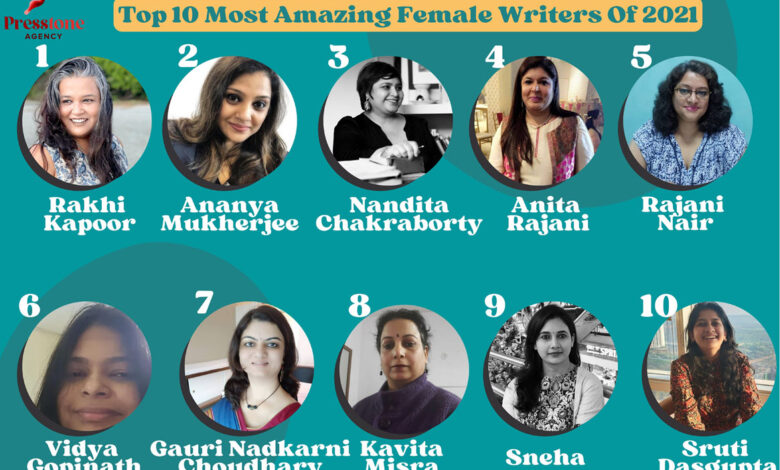 Hereby we present the top 10 most amazing female writers of 2021
1. Rakhi Kapoor
 Rakhi Kapoor is a renowned physiotherapist, antenatal counsellor, entrepreneur, author, and speaker. Rakhi published her first book, "The Girl Who Was Left Behind" in 2017 transcribed from her experience having failed to complete her first trek in Nepal.
Rakhi has published Twenty three impactful books providing solutions for several issues relating to pregnancy, child birth, entrepreneurship, relationships, mental health and several complicated and often neglected issues of life. She has been featured as top most writer among the talented Indian writers in the year 2021. Four of her books have topped the amazon India charts.
www.rakhikapoor.com
amazon.com/author/rakhikapoor
2. Ananya Mukherjee 
Ananya Mukherjee, a former business journalist and a senior corporate communications leader is an acclaimed writer with more than 1000 publications to her credit. Ardh-Satya, The Half Truth & Other Stories, Ananya's first book, a collection of 20 short stories was published in 2016 and has received rave reviews from the Indian and international media. Her second book, An Unborn Desire , a collection of 15 short stories, has already received five star reviews from media, critics and readers. Ananya has recently been recognised with Sahityakosh Samman for 2022 for her book, An Unborn Desire. 
 As a show anchor and storyteller under the stage name of Jujuburi, she is a known figure in the cultural and literary circles in Singapore and India. She has recently been won the Changemaker SheExcellence Award in 2022 and Inspiring Indian Award 2022 for her professional and personal contributions . Ananya lives with her husband in Singapore. 
3. Nandita Chakraborty
 Nandita Chakraborty is a cognitively disabled screenwriter and author of Rosemary's Retribution and Meera Rising.  As a form of therapy, Chakraborty has been writing novellas with strong autobiographical elements and has mixed realism with fantasy. She mostly writes about love, identity, sexuality, disability, and the cross-cultural conflict of being an immigrant. Chakraborty learnt creative writing under the mentorship of Rosalie Ham (author of Dressmaker) and screenwriting at RMIT. Her novellas are selected Finalist for the American Best Book Awards 2018.
The Australian Indian writer, Chakraborty loves food, gin, and movies. She lives in Melbourne and works as a casual library officer at the Moreland City Libraries and writes feature articles for Melbourne's leading Indian newspapers, G'Day India and Indian Weekly..
4. Anita Rajani
Anita Rajani is a Therapist and an author.  She has culminated all her years of learning and experience into writing. She has published her own book "Shivshakti The Continous Continuum". She has contributed in 6 Anthologies. Her new book "Inner voice –  A "Collection of Transformational Messages" is about to be published soon. She has also published a deck of Sai Baba Guidance cards in three languages English, Hindi and Marathi.
Insta- anita_rajani
Website- www.anitarajani.com 
5. Rajani Nair
 A polyglot Malayali, Rajani Nair, had aspired to join the IAF and cleared her SSB (Flying Branch) interview. With over 18 years of work experience in Training, Quality, Operations and Customer Service, she currently teaches at Global Indian International School, Kuala Lumpur and is the 'HoD-English & SSC (Std 3 to 5)'. A 'Poet by Chance' is now a 'Poet by Choice'. She is proud of her 3 solo books 'A BOUQUET OF EMOTIONS', 'THE 'DARSHAN'FLY EFFECT' and 'INCANDECENT ARDOR' and a collaboration 'IMPETUS'. She has also contributed to over 30 anthologies.
Instagram – the_darshanfly_effect
Facebook – https://www.facebook.com/rianinajar
6. Vidya Gopinath
Born in Calicut, Kerala holding a Master's Degree in Communication and Journalism, Vidya currently works as a Content Manager in Bangalore. She is a novice poet and an aspiring writer. 
While growing up, her favourite places were the bookshops and the libraries. Her passion for reading has slowly translated into her love for writing. Her first book Voice-Bouquet of Feelings is a poetry book available on Amazon
7. Dr. Gauri Nadkarni Choudhary
  Dr. Gauri Nadkarni Choudhary is a clinical psychologist with a doctorate in clinical psychology. Beyond that she is a blogger, poet and an artist. She started writing because she believed that people connect to stories and poetry in a much deeper way. Things that are not acceptable in conversation, make sense as  a part of a story or a poem. She started writing blogs and poems about psychology in everyday life. She has publications in several anthologies and has recently published a collection of her poems called "Ripples". She writes blogs on Mental health in everyday  life as www.givinggyan.com.
8. Kavita Misra
Kavita Misra is a teacher by choice, a content writer and translator-proofreader by profession, writer and motivator by passion. She has co-authored around 30 anthologies, and has compiled one of her own. She writes and speaks about issues like gender bias, prejudices, parent-child relationship, single parent, gratitude and positive thinking, importance of communication. 
Kavita is held in high regard in the literary circle and is often invited as Special guest/ judge at open mics and other events.She has more than fifteen years of experience as a teacher, writer, content writer, translator-proofreader and motivational communicator. 
9.Sneha
Sneha is writer by night and IT professional by day. She was born in Bhatapara, Chhattisgarh. Her writings typically focus on the ironies of lives and phases of relationships; hoping that her writing will give words to those who have gone through and felt like what she did. Writing for her is a passion and medicine too. She wants to remain a seeker of peace and knowledge. Apart from her interest in writing, she is proud parent of more than 100 plants & trees and more than 20 furry friends. She loves to get engrossed in the beauty of imagination.
10.Sruti Dasgupta
Sruti is a Engineer, a Product Manager & a Supply Chain professional having worked with various MNC's and startups. Being inclined in sports & having won various accolades in the Gulf Zonals , she feels very strongly about the need to take sports seriously which led her to write Play On .